Microsoft lanceerde vorig jaar een belangrijke update voor Office 365 klanten. 
Communicatie sites
 bieden een snelle en eenvoudige manier om mooie pagina's op te zetten voor interne communicatie, met contentblokken uit allerlei bronnen. Na de uitrol rees dan ook al snel de vraag of dit Microsofts antwoord is op de groeiende nood aan kant-en-klare intranetten.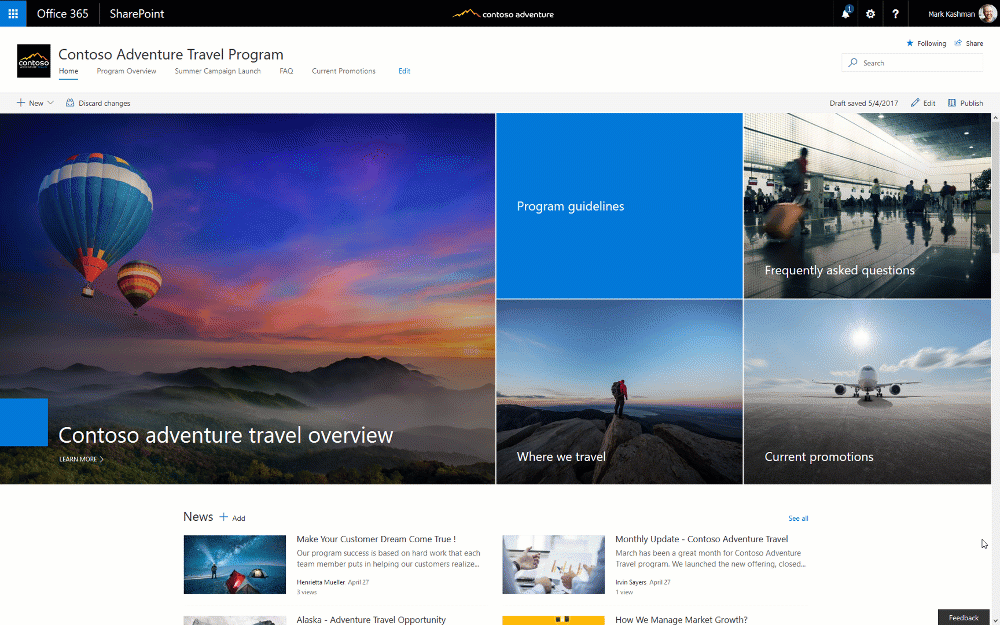 Microsofts kijk op communicatie sites
Microsoft gaf tekst en uitleg over de Communicatie sites tijdens het SharePoint virtual summit 2017. In de begeleidende post deelt het bedrijf zelf zijn kijk op de verhouding tussen communicatie sites en de 'klassieke' intranet sites.
"Q: How do communication sites compare to intranet sites based on the classic SharePoint publishing infrastructure?
A: Communication sites are complimentary to the sites and portals you've built using the SharePoint publishing infrastructure. The publishing infrastructure continues to be supported both on-premises and online. Communication sites are out-of-box sites you can use for internal campaigns, reports, product launches, and other scenarios that address broad audiences across the organization. Communication sites are easy to create: they require no code or design expertise. Simply point-and-click to add pages and parts. Communication sites are mobile-ready by default, looking great across browsers and devices, and in the SharePoint mobile app. For scenarios that go beyond those supported by communication sites today, Microsoft's vibrant partner community has great expertise and offers services and tools that can help you build your mobile, intelligent intranet with SharePoint in Office 365."
Microsoft positioneert de communicatie sites dus niet als een volledige intranet oplossing, maar als een complementaire tool waarmee u snel interactieve pagina's aanmaakt zonder programmeerkennis. Communicatie sites kunnen onder andere gebruikt worden voor het snel opzetten van interne campagnes, rapporten en productlanceringen.
Onze kijk op communicatie sites
De komst van communicatie sites is ongetwijfeld een positieve evolutie voor alle SharePoint gebruikers. Iedereen, zelfs wie geen programmeur is, kan nu aantrekkelijke en interactieve pagina's aanmaken met content uit verschillende bronnen. Naast de 'blanco' template kan er gekozen worden tussen 2 communicatie site templates:
Topic: een template ontworpen om een grote hoeveelheid informatie te delen zoals nieuws, events en andere content. Omvat in deze template zijn:
Hero web part: Geef tot 5 items weer met beeld, tekst en links.
Events web part: Geef opkomende evenementen weer. Deze webpart is niet helemaal nieuw, het is een display web part voor de gekende SharePoint calendar list.
News web part: Een web part voor het weergeven van nieuwsitems
Documents web part: Een web part voor het weergeven van 10 items van de site's documentenbibliotheek
Quick links: Een web part die links verzamelt naar documenten, pagina's of externe URLs
People web part: Hier kan je personen toevoegen om makkelijk toegang te krijgen tot hun profiel informatie
Showcase: een template ontworpen om een meer statische informatie weer te geven. De showcase template leent zich er bijvoorbeeld toe een product, team of event in de kijker te zetten door middel van beelden. De Showcase template is eenvoudiger en bestaat uit de nieuwe hero web part en een klassieke image gallery web part.
Wilt u meer kant-en-klare en flexibele mogelijkheden dan kan u opteren voor een intranet oplossing als 
Involv
:
We zijn volop bezig de communicatie sites aan het integreren in involv. Wil je graag een involv product demo ontvangen? 
Neem vandaag nog contact op
.